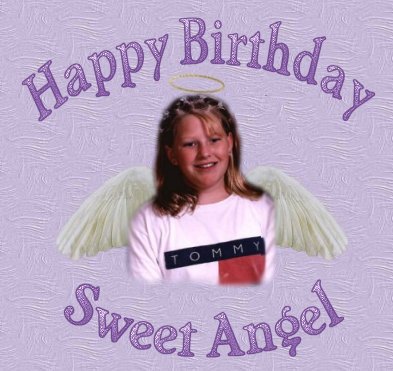 Our sweet girl to be fifteen today, where did all the time go?
I still remember finding out that I was pregnant with you, that was one of the happiest days of my life. Words can not describe how much I miss you. Your beautiful smile that you shared with us daily, I even miss the part of you not walking any where but you cartwheeled through the house and everywhere. If only we could have all of that back, I would never yell at you for it, I would just be thankful you were still here. We can't go back, I know this, but my heart aches for you every day, and so does your dad's. Your baby brother isn't much of a baby anymore, he has so many questions about why you died, and why god didn't help you. So please if you can send angels his way to help answer all the questions in his broken heart.
I want to thank you Elizabeth for leaving me with your wonderful friends, I honestly don't know what I would do without them. I truly see you living through them. You always did take good care of me didn't you? I love you so much, thanks for calling me at work that day to tell me that you loved me, I can still hear your voice saying those precious words. Thank you for letting me be your mother you are the best daughter and I will never ever forget your smile and warm hug that you were always ready to give to anyone whom you thought needed one. Have the best Birthday ever sweet heart,
just think in one year you will be my sweet 16 year old.
Wow!!!! We all love you so so much.
Please be there for your Pa pa he is so sad and misses you so much. Give him extra hugs, so maybe he can see through his tears and know that you are okay and happy. Grandma needs a few hugs too, she always tries to act so tough, but she misses you more than words can ever say. Thanks sweetie. Tell grandpa Bob hi and uncle Kevin too okay? Also please give Kristy Jo a great big hug from us, and help her no that it isn't her fault that her mommy and daddy are so unhappy. They both love her and you so much. Kori misses you lots too and his sister. We love you so much all of are angels in heaven. Daddy knows that grandma Henrettia is making you and all the other kids great cookies. And grandma Joyce is there too giving you all warm hugs and kisses we are sure.
We love you all.
HAPPY BIRTHDAY ELIZABETH
we love and miss you lots.
We are forever your mom dad and little brother.



Happy 15th b-day skeeter
I love you so much
my heart breaks everytime I see your picture.
I am going to be strong for you though
as I know that is what you would want.
I will never forget you
and the fun we had making the go-cart.
You did love that go-cart.
LOVE FOREVER AND EVER
YOUR DAD





Sissy, Happy B-day.
I miss you so much!!!
It is so boring around our house without you.
I got a new puppy for x-mas,
thanks for talking mom and dad into it.
( I know you did because you love me so much, Thanks)
I hope you are having fun in heaven with Jesus and our Father.
I pray every day for you and me.
I am in 3rd grade now, and I wish you were here
to see me play basketball and soccer
and baseball and football,
it isn't as much fun without you.
LOVE YOU FOREVER
YOUR BROTHER





Happy 15th birthday Elizabeth!
Your family and friends miss you lots
and are thinking of you today.
Love Nicky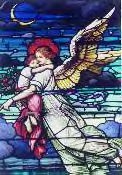 Happy Birthday
Your light was so bright and shining
while you were here with those
who love you and whom you love!
You lit up their world and their hearts!
Today they and we celebrate your life!
Now, we know you light up heaven
with your smile and warmth!
Rest well and celebrate with all our angels!
Love, Teddie





Happy Birthday Sweet Elizabeth
Remembering you today
Your 15th Birthday,
And holding you close in my heart Always
Love, ~Angel~





Happy Birthday Sweet Angel Elizabeth
My thoughts and prayers are with you
and your family
Love ~n~ Light, Irene





Happy Birthday Sweet Angel
Nancy aka MamaKass





Happy Birthday Elizabeth
Hugs and prayers for those who love and miss you.
Teresa





Happy Birthday to Angel Elizabeth Jan Hagge in Heaven
Your parents are remembering you with love today
as you celebrate your birthday with all our angels.
My thoughts and prayers are with your family today .
God Bless
Marta aka Gragonfly





Lizzy-
I remember so much about you!!
I don't know how you were so nice to everyone,
I try my hardest but I can't be at times
I think about you so much
I always think you are just in the other room.
I think of all the times I was with you
and at all your b-day parties.
I have so much to say
but when I think about how to write it on paper
I don't know how.
LUV YOU LOTZ..
ALLISON ROSE WONDER





Happy 15th b-day
from the Class OF 2006.
We Miss And love you so much.
You are always in our hearts and minds forever.





Elizabeth--Happy Birthday!
I know this message is a couple
of days late, but I know you were
looking down at our kitchen table
on Sunday as Scott, Megan, and I
talked about you and your birthday.
We have so many wonderful memories
of seeing you on your birthday.
You always brought such joy to
your family and all that knew you!
Your memory still brings a touch
of softness to our hearts!
We know you are where you were
meant to be, but that doesn't mean
we don't miss you being here!
We love and miss you,
and think about you
so much more than
you would ever imagine.
I say prayers for you
and your family often!
We miss you!
Love, Jan





Elizabeth.....
I hope you are having the perfect birthday
in heaven with all the angels.
Your family misses you so much!
Love, Sarina





HAPPY BIRTHDAY IN HEAVEN
((((((((((ANGEL ELIZABETH)))))))))))
Know you are forever loved
and will never be forgotten
sweet angel.


((((((Family of Angel Elizabeth))))))))))
We are here for you always.
Know you are loved.
love and hugs,
susan





Happy Birthday Elizabeth.
I Hope that You had a Great day.
You and your family are in my thoughts.
I'm sure that you might of been playing with
BJ and Billy at your party.
Love, Joyce BJs Mommy





Happy Birthday Angel Elizabeth
Love, Sammy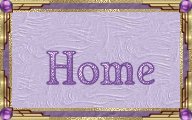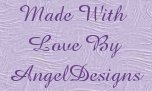 © 2003 AngelDesigns